Chad graduates 26 Cohort III Frontline FETP Trainees
Twenty-six trainees of the Chad Cohort III Frontline Field Epidemiology Training Program (FETP) graduated on 14 February 2023 at Ministry of Health, in N'Djamena.
The ceremony was chaired by Mr. Dabsou Guidaoussoui (below in blue cap), the Secretary General of the Ministry of Public Health and Prevention of the Government of the Republic of Chad. He commended the trainees for completing the program while urging them to contribute to strengthening the health system.
Mr Guidaoussoui also lauded the commitment of the Ministry of Health in collaboration with AFENET and the US CDC, towards implementation of the Frontline FETP and expressed optimism regarding the outcomes.
The other dignitaries present included MoH Central Directors, the Director of Surveillance and Disease Control Mr. Janserbe Fali and his Deputy Director Dr. Mahamat Ali Acyl, mentors, facilitators, and Dr Nestor Ndakala, Resident Advisor – Àfrican Field Epidemiology Network (AFENET).
Dr Elvis Diontolo, Chief District Physician of Massenya /Chari-Baguirmi Province who spoke on behalf of the graduates, pledged to deploy the knowledge and skills gained during the training in improving disease surveillance, data management, outbreak detection and response, scientific communication, and the health system in general.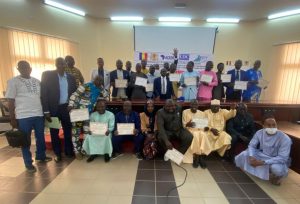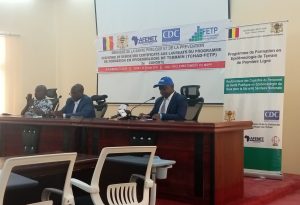 A cross section of trainees and officials at the graduation ceremony.