Mozambique Commences the 1st Cohort of Intermediate FETP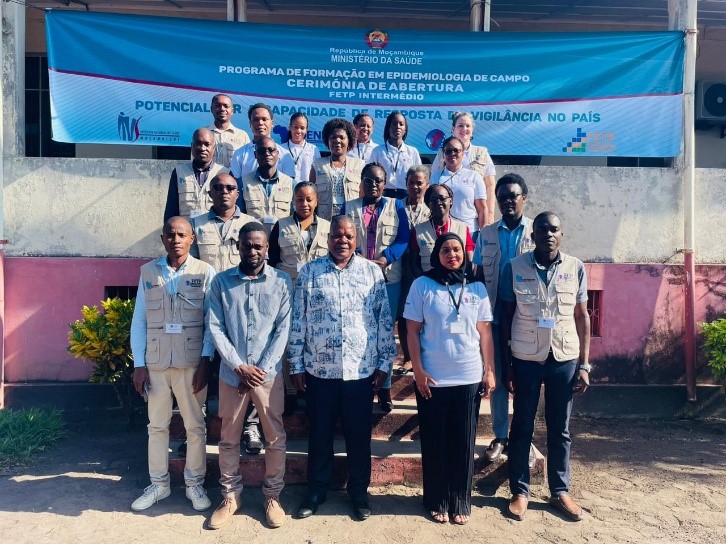 Mozambique commenced the Advanced FETP training of her public health professional in 2010. Since its inception, the program has contributed immensely to strengthening the country's capacity to manage different public health threats. In 2021, the country added the Frontline FETP training to train the district surveillance officers at the last mile of the surveillance system. The Intermediate FETP, the remaining arm of the three-tier program was introduced in May 2023.
The opening ceremony of the First Cohort of Intermediate FETP in Mozambique which took place on 29th May 2023 was attended by the Provincial Delegate of the National Institute of Health João Manel who delivered the keynote address. He praised the importance of training in the central zone, in the face of so many adversities that this region of the country has been affected in recent times, such as natural disasters and the response to public health emergencies.
A total of 12 health professionals, from Sofala, Manica, Tete and Zambézia provinces, among them provincial surveillance officers, surveillance focal points and data managers made up Cohort 1 Intermediate FETP. Four advanced FETP graduate mentors will mentor the trainees and will also be facilitating during the workshops.
The program will be conducted in eight (8) workshops, each workshop lasting five days, the completion and closing ceremony of the first intermediate FETP cohort is scheduled for January 2024.
The first workshop started immediately after the opening ceremony and lasted till June 2, 2023, in Sofala province, Beira city. Some of the topics covered during the first workshop included the functioning of public health surveillance, epidemiological indicators, descriptive epidemiology, types of variables, measures of dispersion and central tendency, practice in Excel, case studies and evaluation of the surveillance system.