Namibia conducts grant writing workshop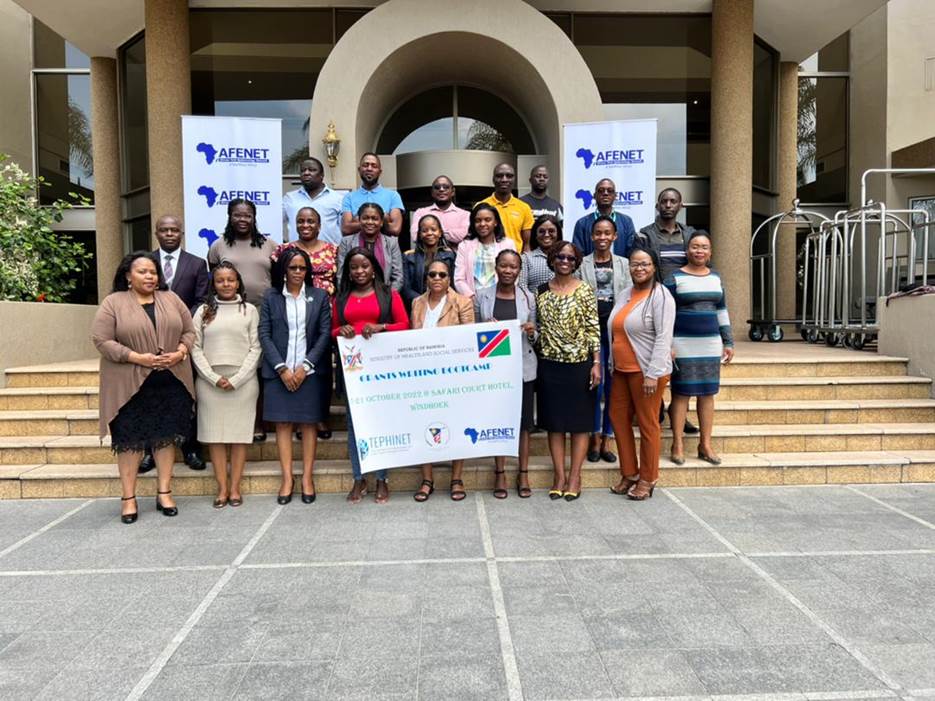 In response to a global call to improve quality and sustainability of field epidemiology and laboratory training programs (FETPs/FELTPs), the Namibia FELTP program won and received the TEPHINET Quality Improvement Assistance award for 2021-2022.The funds were prioritized for grant writing to improve skills among staff, alumni, and residents.
The training was conducted from 17-21 October 2022 at Safari Hotel- Windhoek, under facilitation and technical support from the African Field Epidemiology Network (AFENET). The AFENET team comprised of Dr. Rebecca Babirye (Epidemiologist and Business Development Officer), Dr. Sheba Nakacubo Gitta (Epidemiologist and Managing Editor, Journal of Interventional Epidemiology and Public Health), and Dr. Notion Gombe (AFENET Regional Technical Coordinator- Southern and Lusophone Africa).
According to the Namibia FELTP Resident Advisor, Dr. Ipyana Frank Mwadelile, twenty participants from various sectors including the Ministry of Health and Social Services, Program staff, Ministry of Agriculture, Water and Land Reforms, University of Namibia, WHO, alumni and residents participated.
"Facilitators employed real-life examples and hands-on activities throughout the training and three groups were formed to respond to three grant calls as outputs by the end of the training and polishing afterwards," he said. "The facilitators indicated readiness to assist in grants writing process and were delighted by the program's initial steps."
Speaking at the start of the workshop the Deputy Director, of the Epidemiology Division at the Ministry of Health, Ms. Iyaloo Mwaningange appreciated the funding and technical support from TEPHINET and AFENET.
Ms. Mwaningange was pleased by the enhancement of resource mobilization skills and capacity building in the country and urged participants to network and proactively respond to funding opportunities whenever they come up.