Burundi rolls out 20 frontline field epidemiologists as second cohort graduates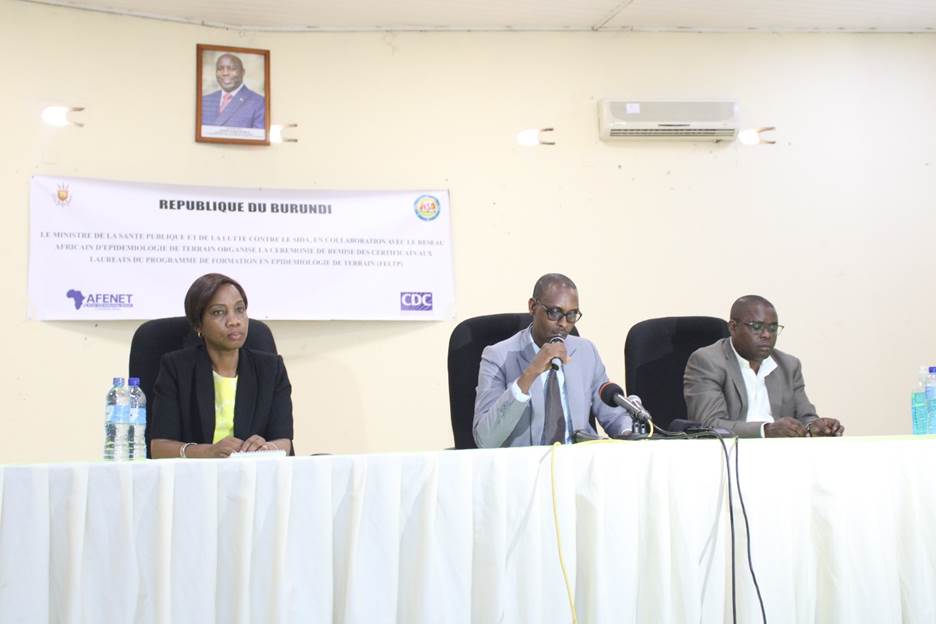 Twenty residents in the second cohort of the frontline tier of the Burundi Field Epidemiology Training Program (FETP) graduated on October 26, 2022, following three months of training.
This now brings to 38, the number of healthcare workers who have gone through the training program since its inception in February 2022. These include 13 females and 25 males.
Among the graduating cohort of 20 were 11 medical chiefs of health, two from Animal health, a District health information officer, a National health information officer, a National Nutrition officer, a Reproductive Health Officer, two Laboratory technicians from the national laboratory, and one M&E officer from National Malaria Program.
According to the Resident Advisor, Dr. Munekayi Padingani, "the graduates are now able to analyze surveillance data, produce weekly disease surveillance reports and conduct investigation of a case and an outbreak."
Burundi FETP Director, Prof Joseph Nyandwi attributed the marked improvement in the completeness and the timeliness of surveillance data in DHIS2 due to the implementation of the FETP program in the country, especially in districts where cadres have been trained. "The program played a big role in the introduction of diarrhea threshold in diseases surveillance system of the country."
Officiating at the ceremony, the Deputy Minister of Public Health and the fight against HIV/AIDS, Dr. Isidore Ntiharirizwa noted that the mission of the ministry cannot be realized without the necessary resources for this purpose.
"Everyone knows that the Covid-19 pandemic has shocked all health systems worldwide. This had a negative impact on the organization of response and surveillance activities due to the lack of human resources, especially staff trained and qualified in field epidemiology," said Dr. Ntiharirizwa. "For this, the strengthening of national public health capacities through training contributes to improving the state of preparedness and response at the national, regional, and international levels to detect, verify, study and control epidemics likely to spread internationally."
The African Field Epidemiology Network's Central African Region and Indian Ocean Regional Technical Coordinator, Dr. Nzanzu Magazani Alain, appreciated and lauded the Burundi Government and the US CDC for supporting the program, as well as FETP-Burundi team for the successful implementation of the program.
Said Dr. Magazani: "It is necessary to continue investing in continuous quality improvement. I have no doubt that in our great partnership, we will continue to direct our efforts towards continuous quality improvement and sustainability."
Dr. Peter Thomas from the US CDC emphasized the importance of sustainability and called for different partners to invest in the program.