Senegal Graduates 3rd Intermediate FETP Cohort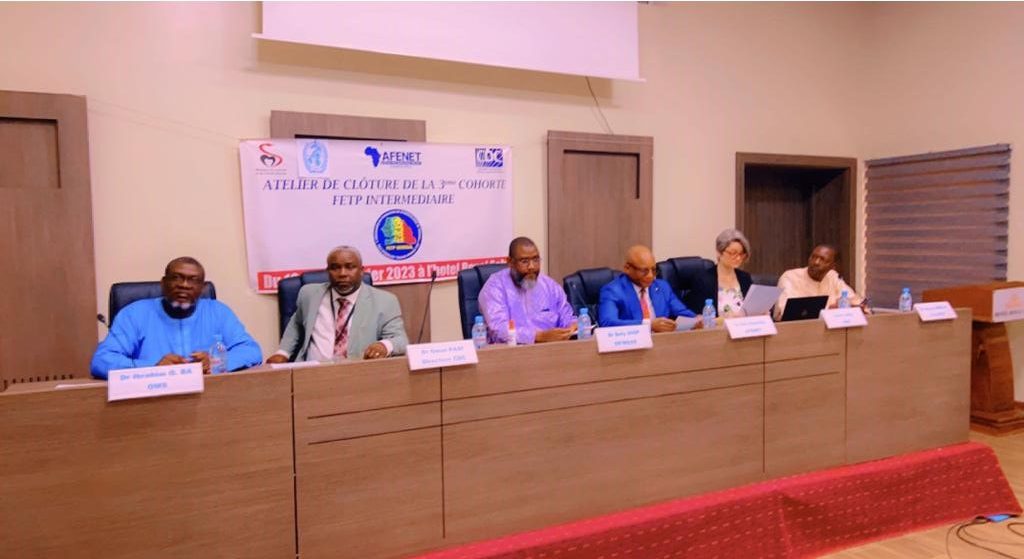 The Senegal Field Epidemiology Training Program held a training workshop and graduation of the 3rd cohort of the Intermediate FETP from January 16 – 20, 2023. Cohort III had 13 graduates composed of eight District Chief Medical Officers, four Regional Epidemiological Surveillance Focal Persons and one veterinarian.
During the training, the cohort members worked on personal projects on the various public health challenges in the country ranging from vaccine preventable diseases (measles, poliomyelitis, human papilloma virus vaccine) non-communicable diseases (cervical cancers), maternal and child health (maternal delivery services evaluation), and epidemic prone disease (COVID-19, Crimean Congo Haemorrhagic fever) and rabies. These works are being prepared for publication on peer reviewed journals with the support of their mentors and faculty.
The graduation ceremony was attended by key officials from the Ministry of Health and Social Action (Head of the Division of Vaccine Surveillance and Response Dr. Boly Diop, Coordinator of Neglected Tropical Diseases – Dr. Ndéye Mbacké Kane, Directorate of Disease Control – Dr. Fatimata Ly, and Center for Emergency Health Operations – Dr. Diambogne Ndour), and partners including Infectious Disease Surveillance Officer WHO -Dr. Ibrahima Oumar Ba, Director of CDC Senegal – Dr. Omer Passi, CDC Atlanta Lesley Chace & Joan Sloan Sumo, Head of Programs AFENET – Dr. Ditu Kizambu and FETP Resident Advisor, Senegal Dr Mbouna Ndiaye. The event opened discussion on the implementation of a sub-regional advanced FETP program and beginning of two frontline or intermediate cohorts simultaneously.