Uganda Expanded Program on Immunization revives the EPI Partners' Technical Coordination Working Group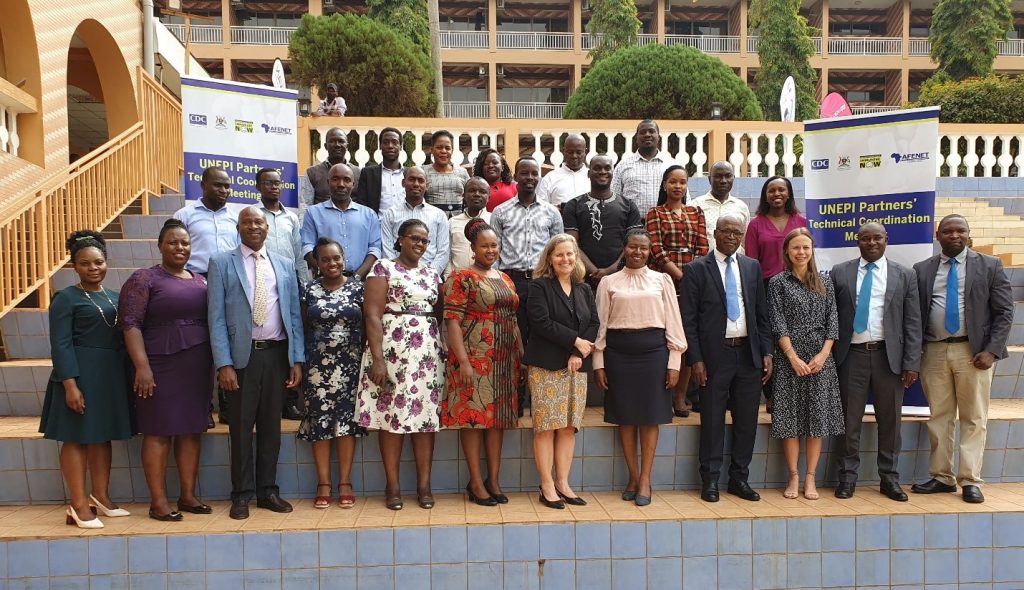 Uganda National Expanded Programme on Immunization (UNEPI) partners are set to revitalize their technical working group (UNEPI-Partners' TWG) for effective coordination of country immunization support.
This was agreed at meeting convened by UNEPI in partnership with support from the US CDC and the African Field Epidemiology Network (AFENET) on 23 February 2023 in Kampala. AFENET with support from US CDC Country program will host and facilitate the secretariat of the EPI TWG for the next twelve months. The secretariat will be hosted by a partner at a time on a rotating basis.
The core technical members include; WHO, UNICEF, US CDC, CHAI, PATH, AFENET, Infectious Diseases Institute, USAID, JSI, World Bank, Makerere University School of Public Health among others.
UNEPI Program Manager, Dr Alfred Driwale, noted that despite the already high number of partners more are set to onboard, hence the need for coordination. For effective coordination, according to Dr Driwale, the TWG needs to benchmark from five principles in the Paris Declaration on Aid Effectiveness. These include ownership, alignment, harmonization, managing for results, and mutual accountability.
According to Dr Micheal Baganize, the UNEPI deputy program manager, Uganda is supported by multiple immunization partners, which makes their coordination critical to providing a platform for engagement, reducing duplication of efforts by partners, preventing suboptimal deployment of resources, ensuring that priority areas are funded and aligned to program priorities, fostering equitable allocation of resources and promoting accountability. He noted that all support will aligned to the Uganda National Immunisation Strategy 2022-2026.
Dr Lisa Nelson, the US CDC Country Director, commended UNEPI for the TWG revitalization given the recent expansion of the program and increasing in the number of partners on board and emphasized the role of vaccines.
"We have seen that vaccines are not only preventing routine childhood morbidity and mortality but we have all seen the last few months what role Covid vaccination has played," said Dr Nelson, who also described the current CDC immunization collaboration in Uganda. "At country level we so many projects working on vaccine safety, looking at the yellow fever vaccine, new polio vaccine, we are supporting policy development on introduction of new vaccines, strengthening the 2nd year of life platform, the life course approach to vaccination and many other things."
The CDC's Global Immunization Division and the CDC-Uganda country office, in partnership with AFENET and Uganda's Infection Disease Institute (IDI), thru the Life course immunization project is supporting UNEPI to introduce and strengthen uptake of vaccines to new target age groups (i.e. 2YL) and identify, implement and monitor strategies to strengthen the delivery of and demand for routine immunization services in Uganda, with a focus on those in the second year of life and beyond.