Zambia Advance FETP Celebrates Graduation of Cohort V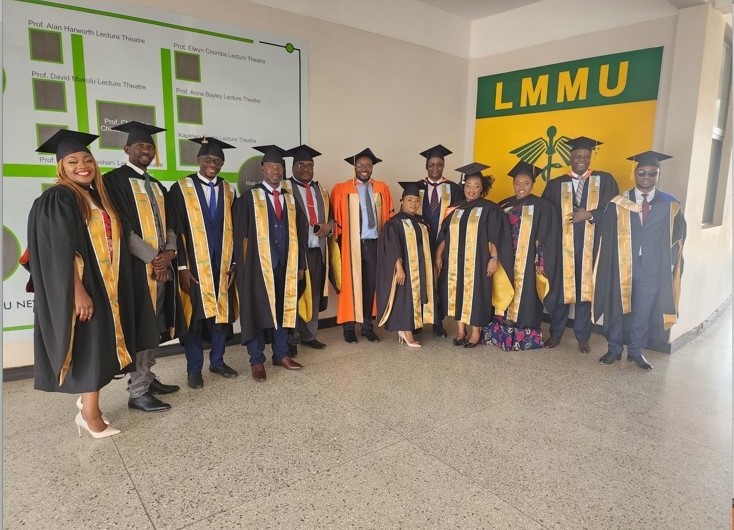 In a momentous event on September 21, 2023, the Zambia Advanced Field Epidemiology Training Program (FETP) at Levy Mwanawasa Medical University (LMMU) proudly witnessed the graduation of its fifth cohort. This remarkable occasion marked the culmination of extensive training for nine individuals who are now equipped to champion public health in Zambia and beyond.
A noteworthy highlight of this graduation is the international camaraderie that flourished within the program. Three dedicated residents, not only from Zambia but also from neighbouring nations (one from Malawi and two from Lesotho). This showcases the program's regional influence in enhancing field epidemiology and bolstering public health security in Southern Africa.
The Zambia Field Epidemiology Training Programme (ZFETP) remains steadfast in its commitment to fortifying the public health landscape across the region. The inclusion of international residents showcases a broader vision and collaborative spirit in its pursuit of producing skilled field epidemiologists.
ZFETP extends its heartfelt commendations to all the graduates for their unwavering dedication and LMMU for their consistent support in shaping a brighter future for public health not only in Zambia but around the world. The graduates include Humphrey Banda, Jonathan Mpundu Chama, Agness Nangoma Haambote, Tebello Kolobe, Theresa Mapoloko Moholoholo, Haachie Moonga, Ante Mutati, Chrsiwell Nkoloma and Emmanuel Tembo