Namibia FELTP conducts 5-day scientific manuscript writing workshop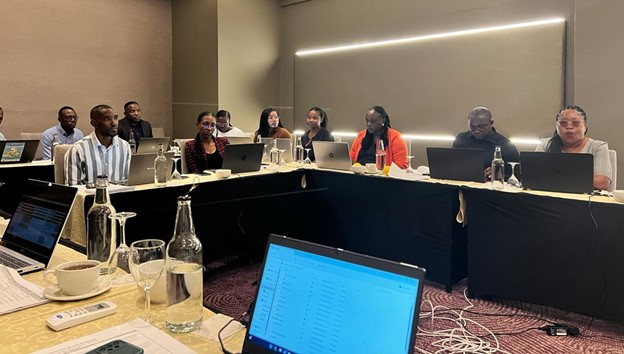 The Namibia Field Epidemiology and Laboratory Training Program (FELTP) organized a 5-day intensive and hands-on Scientific Manuscript Writing Workshop from 11 -15 April 2023.  The workshop objective was to strengthen the capacity of FELTP trainees and graduates in scientific writing and communication.
In attendance were 25 participants drawn from the Ministry of Health and Social Services, WHO, University of Namibia, Ministry of Defence, Ministry of Agriculture, FELTP residents and alumni.
Dr. Chukwuma D. Umeokonkwo, the Senior Technical Officer from AFENET Secretariat in Kampala and Dr. Notion Gombe, the AFENET Regional Technical Coordinator for Southern Africa were the lead facilitators. 
The workshop was flagged off by Mrs Philomena Ochurus, the Director of Health Information and Research Directorate. Also present were Ms. Iyaloo Mwaningange – the Deputy Director Epidemiology Division in the Ministry of Health and Social Services, Ms. Emmy-Else Ndevaetela – the FELTP Program Director and Dr. Ipyana Frank Mwandelile, the AFENET Resident Advisor FELTP Namibia.
In her opening remarks, Mrs Ochurus encouraged the participants to strive to ensure they publish their field works. The workshop is expected to produce at least ten published articles in international peer review journals.
The Ministry and the Program appreciate the funding and technical support from TEPHINET, AFENET and the US CDC.